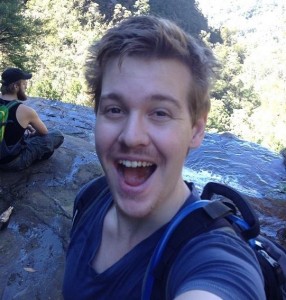 Howdie!
It is today Someday, the eighth of December and we have spent.. well, a number of days in Katoomba, Blue Mountains.
Finally, we have gotten ourselves a car (Jeep Cherokee) that we can load with camping equipment and rid ourselves of the hassle of carrying our bulky bags around. The ammount of stuff I have brought with me doesn't feel like too much, but once it's on my back – the opposite soon becomes obvious. Luckily, I got a few fancy panniers with the bike when I bought it and I am thinking of buying even more to put on the side so that I can carry all of my baggage by myself if the need should arise.
Up here in the "Blueies", it is truly amazing. We live no more than two kilometres from some stupendous waterfalls with what we swedes cannot call anything other than cool life forms. Today, for instance we were introduced to a couple of loud cacadues who decided that the tree not three metres from us was the best place to sit for a while.
While in Katoomba, it should be obligatory to hike to both the Katoomba Falls, make a stop at Echo Point and take a stroll to the Leura Cascades, where we went this morning. The running water accompanied by the sounds of the forest make for a truly relaxing environment and the pathways are excellent. My top tips – wear boots and bring water!
I am currently waiting for the slowest WiFi in the world to let me upload the videos from our hikes as well as my little adventure ride by motorcycle, but that might be a while, so stay tuned!
Spotify Song of the Day: Creedence Clearwater  – Looking Out My Back Door