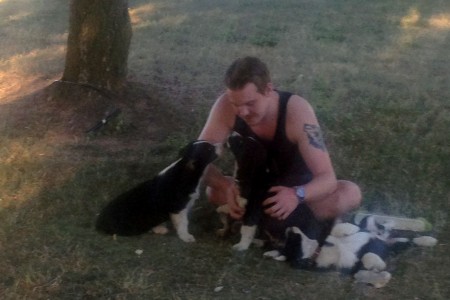 Surrounded by the greeting committee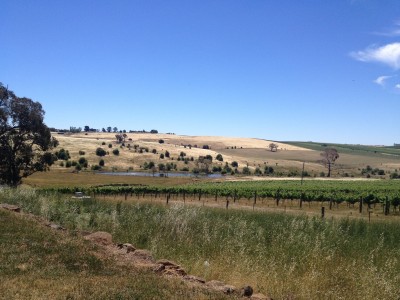 The surrounding landscape
Good news everyone!
After three days of job searching, we got a reply saying we were welcome to come work at a cherry picking farm in Orange, New South Wales – about two hours away from Katoomba. We left immediately and spent the first night in some kind of car park motel. While the city is nice enough, when we arrived mid day there was (and still is) a deafening sound from the chicadas in every tree, everywhere as soon as it gets the least bit hot outside.
After the night in the motel, we packed up our stuff and went to the cherry picking place and started working. After a quick search online, I found the only "hostel" in town, which was on a facebook page that had only a phone number and an address. I called and was told that the hostel was full, but if we had a tent, we were welcome to stay on the premises and still use the facilities, so we figured we should at least go check it out. $35 per week seemed too good to say no to.
Said and done, we arrived after some issues with the navigation as the address was not available on the GPS, but it would soon prove to be the best thing we'd done since arriving in Sydney.
The greeting committee consisted of four ultra cuddly, happy puppies so we sat with them in the sun for a while before we were shown where to pitch our tent.
So far, the first few days here have been awesome, the host family is the friendliest you can imagine, we have access to kitchen, toilet, showers, a huge garage, tools and we live pretty much in the middle of a fantastic vineyard.
The plan for today is to find and buy what I call an Australia-hat and finish digging a hole for one of the vineyard posts.
I think that's all for now. Stay tuned!
Spotify Song of the Day: Nordman – Nu lever sommaren